Christmas Eve…
I awoke this morning to loud crashes over my house… an unexpected raging thunderstorm that made the house quake and terrified our dog! Yet the weather experts are promising us that the sun is surely on its way and that Melbournians are going to experience a very hot Christmas this year. As I looked outside at the height of the storm, I found this promise very hard to believe.
Christmas Eve…
I awoke on another Christmas Eve six years ago to different kind of thunderstorm that made our house shake and our hearts break. The palliative care team from the Children's Hospital made an unexpected visit to our home to prepare us for Bethy's imminent death. The promises of light and sun, life and hope, restoration and beauty seemed hard to believe that day too.
Yes, that day was dark and scary indeed. I can't help but feel the ache and the weariness of waiting more acutely this year – it also being the first Christmas without my dear dad. But after such a dark, dreary, noisy morning, there is a little clearing of the sky and I can see some rays of sunlight coming through the windowpanes. Outside there is a gentle breeze is in the air bringing to me that lovely fresh fragrance that only comes to us after the rain.
Christmas Eve…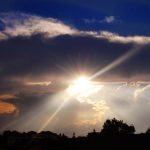 A thrill of hope, the weary world rejoices, for yonder breaks a new and glorious morn…
Like many before me, I am comforted by the words of my favorite Christmas Carol. 'O Holy Night' was composed by Frenchman Adolphe Adam in 1847 and based on the poem 'Midnight Christians' by Placida Cappeau. John Sullivan Dwight modified the version we sing today in 1855. It has been recorded by many famous artists over the years since then and was, in fact, the second piece of music, after Handel, to be played over the airwaves in 1906 – on Christmas Eve of course!
 O holy night! The stars are brightly shining, it is the night of our dear Saviour's birth.
Long lay the world in sin and error pining, till He appear'd and the soul felt its worth.
A thrill of hope, the weary world rejoices, for yonder breaks a new and glorious morn.
Fall on your knees! O hear the angel voices!
O night divine, O night when Christ was born;
O night divine, O night, O night Divine.
Led by the light of Faith serenely beaming, with glowing hearts by His cradle we stand.
So led by light of a star sweetly gleaming, here come the wise men from the Orient land.
The King of Kings lay thus in lowly manger; in all our trials born to be our friend.
He knows our need, to our weaknesses no stranger,
Behold your King! Before Him lowly bend!
Behold your King, Before Him lowly bend!
Truly He taught us to love one another; His law is love and His gospel is peace.
Chains shall He break for the slave is our brother; and in His name all oppression shall cease.
Sweet hymns of joy in grateful chorus raise we, lLet all within us praise His holy name.
Christ is the Lord! O praise His Name forever,
His power and glory evermore proclaim.
His power and glory evermore proclaim.
Christmas Eve…
BE Comforted my grieving friends. Whether you feel it or not, we are on the Eve of something wonderful. The crashing thunder will pass and the teaming rain will subside. The darkness will be pushed back by LIGHT and the morning will arrive as promised for He has surely come for us and He is surely coming again. Yes! It is going to be a hot and sunny Christmas, as promised, after all!
Christmas…
 … a time to remember that Jesus was born to be our Friend through all our trials.
… a time to give thanks that He knows our weaknesses and understands our how needy we are.
… a time to celebrate that He will break every chain, make ALL things new and that He will reign forever and ever!
… a time to worship the King of Kings and Lord of Lords and bring Him the gift He longs for most…    what else can we do except fall on our knees?