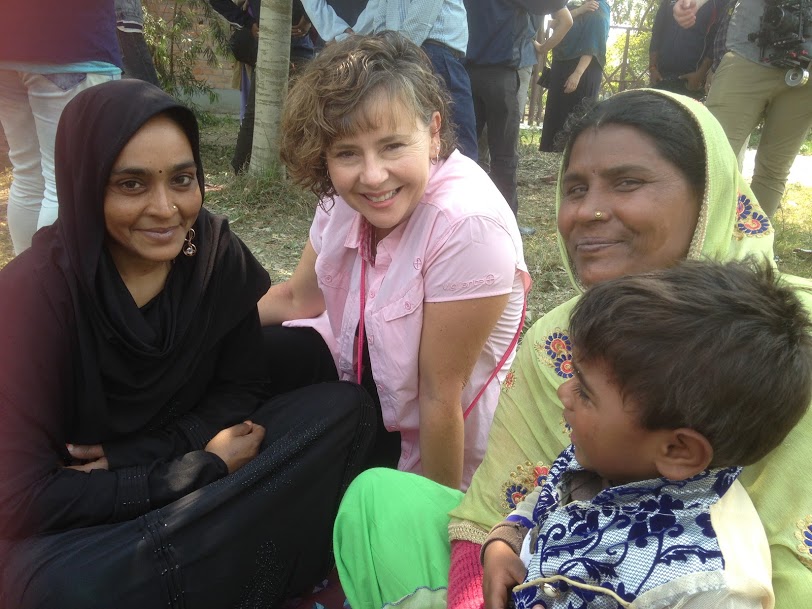 Many years ago I travelled as a tourist to Northern India. It was my very first trip overseas and it was filled with a variety of sights, sounds, smells and flavours. While it was enjoyable, something was missing. Just a year or so later, my new husband and I travelled to the Pacific on our first ministry trip and we found that missing something – purpose!
Travel often sounds adventurous and luxurious. Travel on its own can be fun and offer a restful experience. But travel with a purpose – travel that is meaningful and incorporates a positive mission – well that kind of travel is in another category all together!
My latest ministry trip to Nepal, as an ambassador for CBM, was filled with purpose. It was also an eye-opening experience – quite literally! While I certainly experienced many unique sights, sounds, smells and flavours similar to my first trip in that region, I also got to meet beautiful people, created in the image of God, who now have their eyes opened to see!
I travelled to the other side of the world for a heartfelt reason – on behalf of our daughter, Bethany. Beth dreamed of travel – intentional travel with a purpose. She had heard about people in need and wanted to become a nurse and go and help wherever she could.
Beth did not get to fulfil her dream in the usual way. She went to her Heavenly Home just short of her 16th birthday in 2011, after a year-long, faith-filled battle with brain cancer. But, her dream to help the most marginalised and seemingly forgotten 'poorest of the poor' is still alive!
As a family, we thank God for the transforming work of CBM and the opportunity to partner with them in bringing miracles of sight and restoration to the world. We can relate to the struggles that come with loss of sight as this was Beth's first symptom. Upon her diagnosis, God gave us a promise that her life would matter and that her dreams would not die, but be used in a greater way than we could envisage…

Many will see and fear the Lord and put their trust in him. Psalm 40:1-3 NIV
Spiritual eyes are being opened through Beth's legacy of faith, hope and love. And through the amazing work of CBM and its partners, physical eyes are also being opened! All this is only possible when ordinary people like you and me get behind the extraordinary day we mark on the calendar as Miracles Day! Fellow Aussies, we have the opportunity to pave the way for the rest of the world to get on board.
Please join in with Bethany's legacy today and support her God-given vision to see eyes opened and lives transformed! The small sacrifice you will make to be part of Miracles Day is a decision you will never regret!
While it may be true that you will not get to travel overseas with a purpose and witness the transformation God offers through the work of CBM, there is a way you can come with us and see the redemption story God has given our family… ACCTV DOCUMENTARY 'I SEE YOU'
Together. Restoring. Hope.
It is an absolute honour to partner with the Australian Christian Channel (ACCTV) and the enthusiastic community of people who make Miracles Day a reality.  This exciting new three-part documentary explores Bethany's life and her legacy with CBM. It will be available to be streamed from Sunday 11 August. It will be broadcast on the channel at 6:30pm and 10pm on August 13, 14 & 15.
Our loving God affirms every person as worthwhile and says – 'I SEE YOU!'
Every person with sight restored can now say to loved ones – 'I SEE YOU!'
Every person now woven into this beautiful story can also say – 'I SEE YOU!'
Miracles Day gives Australians the opportunity to give someone the Miracle gift of sight, with a 12-minute operation costing just $33.
CBM's Miracles Day happens across Australia on August 15. To find out more or to donate, visit cbm.org.au/miraclesday