---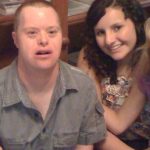 A loving tribute to Andrew Bond
Life can get rather complicated – can't it! The two people in this photo have been my greatest teachers on the subject of keeping things simple. My daughter, Bethany Joy, and our Down Syndrome friend of 34 years have both humbly taught me in their own unique ways how to keep the main thing the main thing. They have magnificently shown me through their life, suffering and death how to BE uncomplicated!
Andrew is now reunited with Bethany and his best mates – my brother, Chris, and my dad, Geoff. It is a long story, but in the spirit of keeping things simple, one Christmas in 1983 Andrew became a part of the fabric of our family – forever.  Like Bethany, he knew how to nibble his way into hearts and like her, he has left a space that will ache until we are together again.
Some saw his condition as a curse and there certainly were many challenges Andrew faced because of the genetic flaws in his body. But as you may be aware, Down  Syndrome can bring many blessings including the capacity to love unconditionally and the ability to not be greatly affected by the complications life can bring.
I cannot count the number of times Andrew told me with a huge smile, through thickened lips and tongue, that he loved me. I will miss the words "I like you Lyn Barlow" & "I love you darling" – usually said with effort while patting my head and tousling my hair 🙂 That boy sure knew how to love and anyone who had the pleasure of knowing him always came away feeling loved and accepted and definitely laughing!
Andrew, thank you for loving me so well and for loving and accepting my husband, children and all the extended family into your heart without hesitation. You were my first 'little boy" and because of you, I have learned to love bigger and better, wider and stronger. You have forever changed us and taught us so many life-giving lessons. Thank you for the privilege to love you back and for all the joy we have shared over the years. Christmas and birthday celebrations will never be the same without your antics that made us all roar with laughter. Because of Jesus, we have forever to enjoy you – free from the constraints of this broken world. You have given us a glimpse of eternity and simply taught us the one thing that matters. Thank you for helping to unravel the complicated mess in our lives. Thank you for living out this eternal truth in our midst.
"Above all else, LOVE each other deeply, because LOVE covers a multitude of sin." 1 Pet 4:8